Enchanted Woodland Stickers
Happy Spring!
Today is the Vernal Equinox and Ostara, which celebrates Eostre, the Germanic goddess of dawn, spring, and, I like to think, the getting-started of things in general. There isn't a lot of primary-source material on the old or original traditions and beliefs surrounding Eostre, but the modern symbolism of the celebration is still meaningful, and resonates strongly with many who look forward to emerging from winter. And also, there are bunnies. C'mon.
I haven't written it on this blog before, but if you've been following my Instagram you probably picked up on my deep and abiding love of rabbits year-round. So of course I'm drawn to any tradition in which they're a heavily featured guest-star! Aside from planning my garden and watching the snow melt around moss patches, the imagery and symbolism of bunnies is probably my favorite part of spring. Anyone who's owned a rabbit knows that they aren't merely the placid, bucolic piece of meadow scenery they're often painted as. They can be quick, fierce, and resilient little balls of fiery fluff. (Also, claws. And teeth. Fluffy balls of fiery teeth.) They symbolize a lot of things for me personally at various times of the year, but around Ostara, they're a visualization of life, spring, and new beginnings fighting tooth-and-claw through the remnants of winter and darkness. Gosh I just love bunnies.
Exhibit A: The Enchanted Woodland Sticker Trio! Ta da!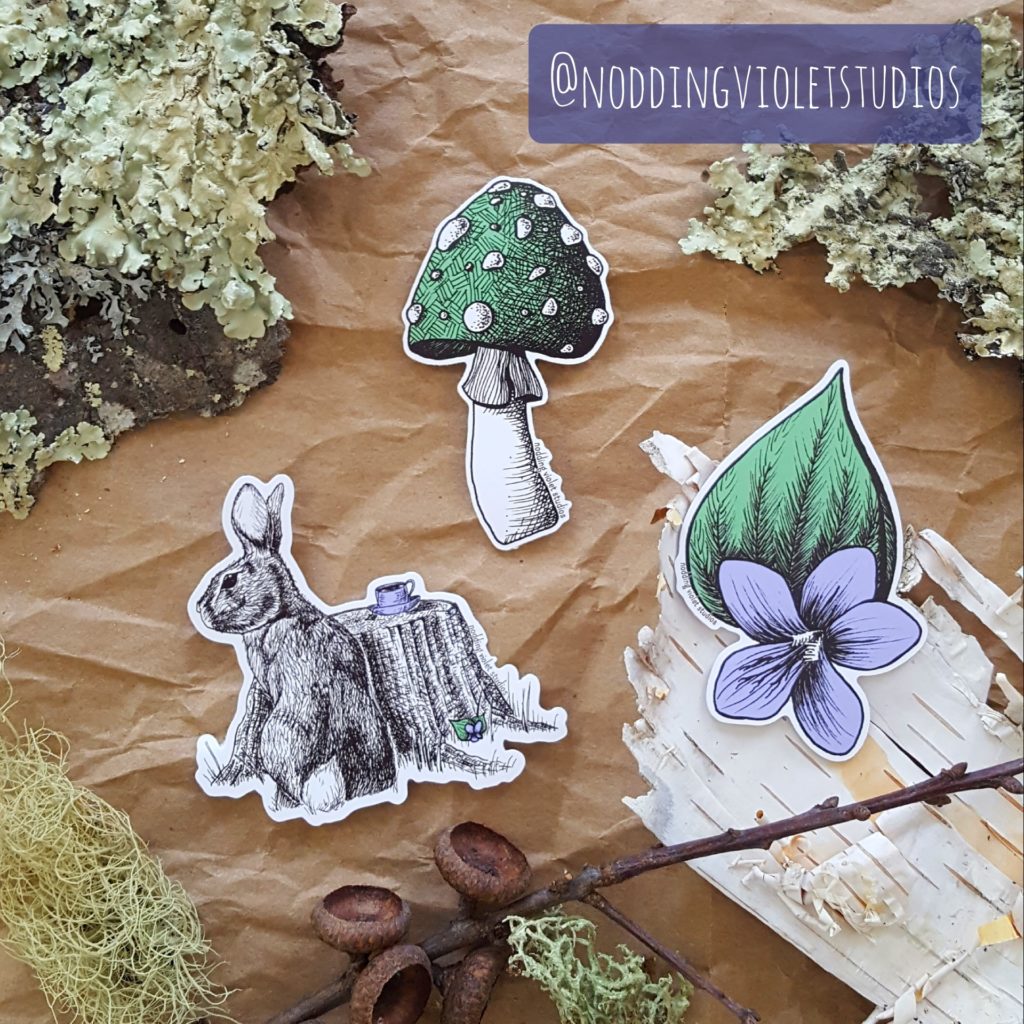 This winter I've been working on turning a few pieces into stickers, and now they're here! Two are personal symbols of mine, and one is just plain fun. A violet, toadstool, and tea-sippin' bun are magical forest friends, just waiting to grace your laptop or journal. To celebrate the arrival of spring, and the nearing end of this difficult winter, they're hopping into my Etsy shop with 15% off and free US shipping! Follow me on Instagram and check out my stories for an extra treat.
Speaking of spring, earth, and green things (weren't we?), environmental responsibility is an ongoing effort in my shop, and I was excited to find a source of non-vinyl and eco-friendlier stickers that I'm happy with. These are made with FSC-certified paper, backed with a glassine (more paper) liner, and are 100% recyclable. They're PVC-free with water-based permanent adhesive, too. "Pssht, sounds flimsy," you say – but oh ho. They're nice, thick, 135gsm paper, and weather- and water-proof for short to medium term outdoor use. "The heck does that mean?" Well, I think it means that I can't guarantee these'll last as long as vinyl on something like your car bumper, but they do great on my water bottle that gets hand-washed, and of course they're perfect on something like a planner or tablet case.
Spring is hinting at unfolding around here. I've started my bell pepper seedlings, and should probably go ahead and start the tomatoes & other things too since I do live in NH, and growing things just seem to take longer in my neck of the woods. I'm looking forward to the day my lawn erupts with it's own little sea of violets!
Angela